Lemke Industrial Machine
Lemke Industrial Machine LLC, established in 1973, started as a general machine shop providing services to local businesses. Soon after its inception, the firm began providing gate hoists for dams. That success led to larger components, and soon the company was providing machinery and operating equipment for locks. The company then entered the movable bridge market where the accumulated skill set and knowledge was applied to engineering and manufacturing machinery and operating equipment for bascule, lift, and swing bridges.

Our legacy to date is one of being a reliable and valuable partner to our customers. Going forward we will continue to be driven by our desire to exceed our customers' expectations.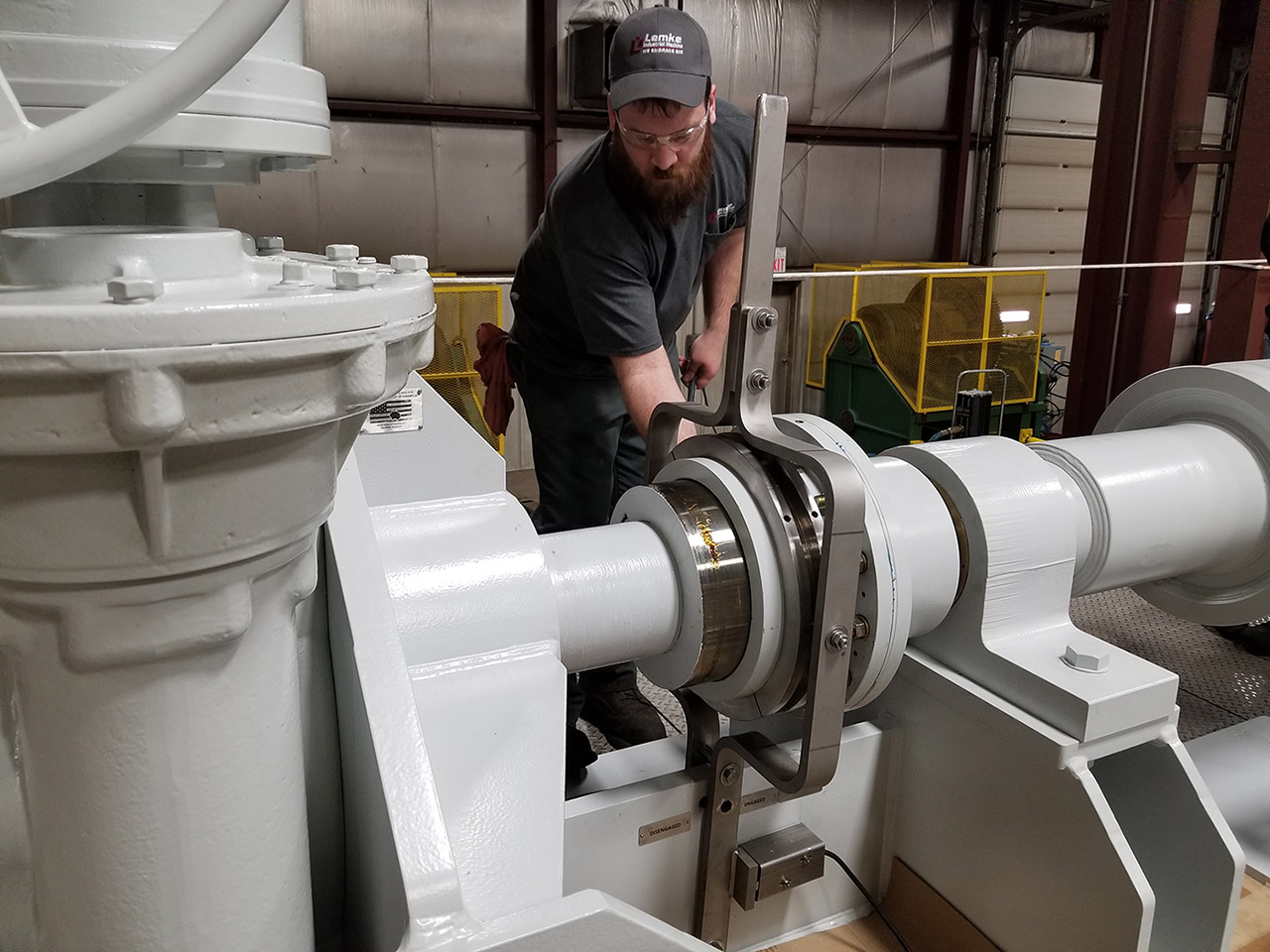 Our mission is to be the preferred manufacturer of machinery and operating equipment for locks, dams, and movable bridges. We will commit our experience, knowledge, and passion to exceed our customer's expectation.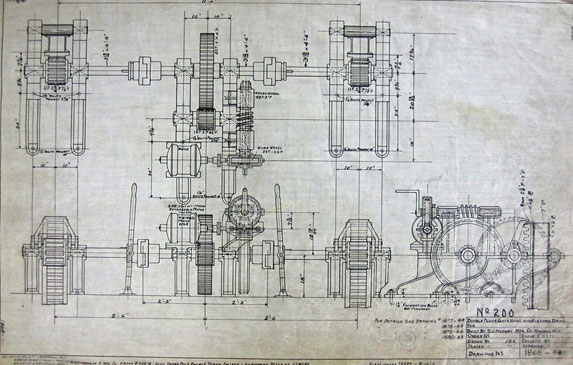 Murray Machinery
From the turn of the last century through 1988 Murray Machinery was the industry leader in dam gate hoist equipment.  Murray Machinery was originally known as D.J.Murray Manufacturing Company.  The firm manufactured and marketed dam gate hoists and other products under the MURCO brand name.
Don Lemke, founder of Lemke Industrial Machine, worked in the engineering department at Murray Machinery from 1963 through 1973.  In 1973 Don decided to set out on his own and he established Lemke Industrial Machine.  In 1988 Murray Machinery made the decision to exit the dam gate hoist market.  Don approached Murray Machinery and purchased all the dam gate hoist designs, drawings, and the rights to manufacture the product.
Today Lemke Industrial Machine has nearly all the original Murray Machinery dam gate hoist drawings.  We routinely provide parts and assemblies, made from the original drawings, as well as provide complete rehabilitation to vintage Murray Machinery dam gate hoist equipment.
Please contact us at, sales@lemkeindustrial.com, for service of your Murray Machinery dam gate hoist.
Lemke Industrial Machine has been a reliable partner in many of our hydro projects over the last decade, plus. They have a very detail orientated approach to engineering, fabrication, testing, and project management which leads to great results! They have excellent follow through on any piece of equipment they supply; quickly and thoroughly addressing any issues that come up during commissioning and providing support over the life of the equipment. They have also offered their services in troubleshooting equipment they did not originally supply! We appreciate them very much as an ongoing partner.
Working with Lemke Industrial Machine LLC was and continues to be a seamless process. From fabrication to testing and troubleshooting, LIM has provided excellent products and services to my company. The team has been such a joy to work with on multiple projects. I wouldn't hesitate to use them again and again. Thanks guys!
I just want to take the time to thank you and Lemke Industrial Machine again for the help and equipment/fabrications you provided for the MN Slip Bridge project. It was a pleasure to work with your entire staff. Although this project was not huge it was a very challenging project due to its complexity, location, weather conditions and extreme time constraints. Because we were able to work closely with your team to overcome unforeseen issues and prioritizing long lead time fabrications we were able to complete this project on time and budget. I was reminded yesterday, when I received a call from the bridge operator to look at another project, that I owed you this thank you. The bridge has been working flawlessly now for two years and the bridge operators couldn't be happier. Keep up the great work and I look forward to having the opportunity to work with you again.
I'm pleased to say that Lemke Machine planned their work for the Trent River Bridge well, executed their plan well, and delivered the products to Balfour Beatty and the North Carolina Department of Transportation without issue. It is a pleasure to work with a firm that addresses and delivers challenging work in a professional manner and Balfour Beatty looks forward to working with Lemke Machine on future projects.
Given what I know today about the contractor's ability to execute what they promised in their proposal, I definitely would award to them today given that I had a choice.
Zenith Tech, Inc could not have been happier with the service provided by Lemke Industrial Machine. All of the components were of first class quality and installation time and cost were reduced due to this high quality workmanship. All products were produced in a timely manner and deadlines were easily met to keep the project on schedule. Lemke Industrial Machine's most valued component is its people. Mike Sprague, Lemke's project manager, was a valuable asset during procurement and erection and provided outstanding insight to the erection of the on-site product. Zenith Tech, Inc would give Lemke Industrial Machine an A+ grade for their work on this project and would, without hesitation, utilize this company as a supplier in future projects.
Lemke Industrial Machine's staff, on all levels, were extremely professional, worked well with the BCI team and were diligent in resolving any project issues in a timely manner, no matter the size or complexity. LIM's technical team was always available to BCI, throughout the entire project, to have open discussions regarding any technical issues that were encountered. Submittal information provided was prompt and clearly detailed for ease of review. The mechanical equipment and structural components provided by LIM was of the highest quality. The success of this project is a direct result of these attributes and the partnership between LIM and BCI. We look forward to working with them on future projects.
Designations, NAICS Codes, Certifications, and Memberships
DESIGNATIONS:
•Cage Code: 6FN61
•DUNS: 117746566
•FEIN: 85-2699989
•ENTITY: Limited Liability Corporation (LLC)
•SAM: Complete
NORTH AMERICAN INDUSTRY CLASSIFICATION SYSTEM–NAICS CODES:
•332312-Fabricated Structural Metal Manufacturing
•332313-Plate Work Manufacturing
•332710-Machine Shops
•332721-Precision Turned Product Manufacturing
•333298-All Other Industrial Machinery Manufacturing
•333613-Mechanical Power Transmission Equipment Manufacturing
•333923-Overhead Traveling Crane, Hoist, and Monorail System Manufacturing
UNITED NATIONS STANDARD PRODUCTS & SERVICES CODE –UNSPSC CODES:
•73161500 -Manufacture of Machinery
•95121626 -Railway Bridge
•78141702 -Drawbridge Operations
•73181000 -Machining Services
•31390000 -Machinings
CERTIFICATIONS:
•Small Business
•Florida DOT Approved Movable Bridge Machinery Supplier
MEMBERSHIPS:
•National Hydropower Association
•Midwest Hydro Users Group
•Association of State Dam Safety Officials
•Heavy Moveable Structures, Inc.
•REMSA (Railway Engineering-Maintenance Suppliers Association)
CORE COMPENTENCES:
Lemke Industrial Machine LLC manufactures machinery and operating equipment for locks,dams, and movable bridges. We are a recognized leader in the dam gate hoist market with 45 years of innovation and manufacturing excellence. We are uniquely qualified to design, engineer, fabricate, assemble, and test virtually every size, style, and configuration of dam gate hoist. Additionally, we provide custom machining services for large, complex castings, forgings, and weldments.
143454 County Hwy NN
Marathon, WI 54448
143454 County Hwy NN
Marathon, WI 54448
Do you need help with a project? Fill out this form to get in touch with us.